Joico COLOR INTENSITY
DISCOVER A DAZZLING SPECTRUM OF BOLD, BRILLIANT COLOR WITH JOICO COLOR INTENSITY -our intensely concentrated pigments designed to help you create over-the-top vibrancy that lasts through 15 shampoos.
Color Intensity's intermixable formula can be applied straight from the tube, or mix and mingled to your heart's content for endless creative possibilities. Bonus benefit: no developer required which means NO CHEMICALS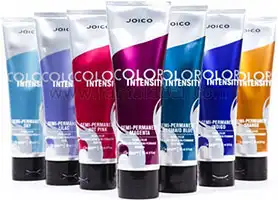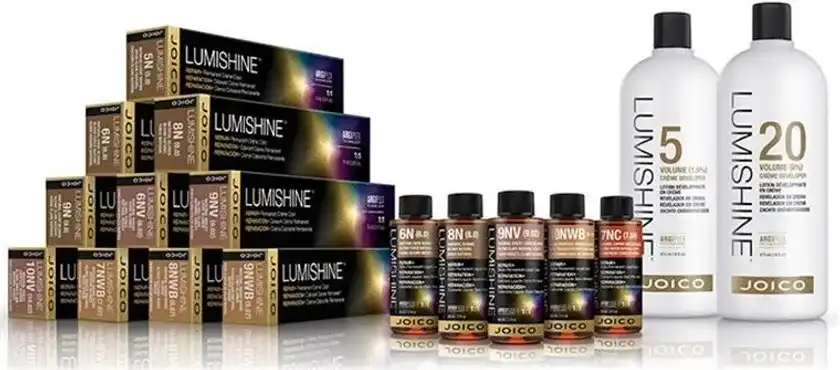 LUMISHINE PERMANENT CRÈME COLOR
Introducing a gentle, reduced ammonia color system of over 50 shades ranging from Level 1 to high-lift. Guaranteed healthy-looking, consistent results when combined with LumiShine Crème Developers (10, 20, 30 and 40 Volume).
LUMISHINE DEMI-PERMANENT LIQUID COLOR
Introducing a gentle, ammonia-free color system of over 20 shades formulated for deposit only. Guaranteed predictable, consistent color results when mixed with LumiShine Crème Developer 5 Volume.
COLOR SO BRILLIANT, IT INSTANTLY RESTRENGTHENS HAIR WITH UP TO TWICE THE SHINE.
NEW Joico LumiShine transforms hair from the inside out with breakthrough ArgiPlex Technology, delivering astonishing shine, color longevity, and overall healthier hair—guaranteed!
Hair with up to twice the shine*
100% replenished and restrengthened hair**
Nourishing protection that seals in moisture, softness and shine for up to 30 full shampoos*
With a Permanent Crème and Demi-Permanent Liquid system, LumiShine offers pros the easiest possible color solution for every salon service and hair type imaginable. Here's why you'll love LumiShine…
It's Easy! Three simple steps to brilliant color—consultation, formulation, and application.
It's Predictable… Reliable… and Utterly Straightforward! A full spectrum of perfectly balanced, intermixable pre-blended shades allows you to deliver straight-from-the-tube (or bottle) color perfection—every single time.
It Smells Amazing! LumiShine is formulated with Joico's exclusive Gentle Fresh Fragrance technology, a patented combination of molecules that helps neutralize airborne ammonia and envelopes your color service in fresh, calming notes of bergamot, iris, and sandalwood. Client comfort is off the charts.
Joico VERO K-PAK COLOR
Repair and protect hair as you color with Vero K-PAK Permanent Crème Color, the only permanent haircolor featuring an award-winning K-PAK Reconstructor. This system, adored by beauty editors and celebrity colorists from coast to coast, delivers the one-two punch of stunning vibrancy, excellent condition, predictability, and long-lasting color results every single time. How's that for fabulous?
Intermixable true tone shades provides amazing artistic freedom, allowing colorists to think outside the box by creating endless color possibilities within a streamlined inventory. More bang for the buck, if you will.
VERO K-PAK CHROME DEMI-PERMANENT CRÈME COLOR
Experience the vibrancy and condition of Vero K-PAK's permanent crème color in an ammonia-free, demi-permanent formula that lasts between four to eight weeks. Vero K-PAK Chrome provides high-gloss, natural-looking gray blending that fades gradually, making it the perfect choice for the "uninitiated" –especially, guys and graying clients.
Intermixable shades offer colorists total artistic freedom, plus the ability to dream up endless color possibilities within a streamlined inventory.
Joico AGE DEFY COLOR
Joico Hair Color Age DefyBring back the glorious look and feel of youth with Vero K-PAK Age Defy, the first haircolor proven to reverse the four key signs of maturing hair.
The Age Defy permanent crème palette offers the largest selection of gray coverage shades on the market, plus three anti-aging must-haves in each tube of color: Softer, more manageable texture; Renewed luster and vibrancy; Top-of-the-line conditioning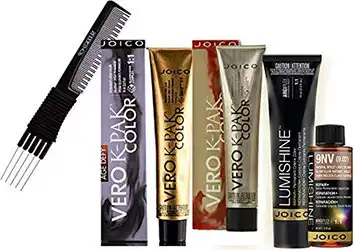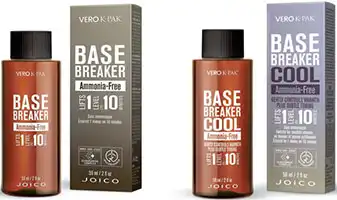 Recommended for "breaking the base" in order to soften the contrasting regrowth between blonding services, and for gently lifting blondes or brunettes without exposing underlying warmth, Joico Base Breakerl is an ammonia-free formula that features Joico's exclusive K-PAK Technology with Quadramine Complex. It leaves hair superbly conditioned and shiny, and it's gentle enough to use at the same lightener or haircolor service.
IGORA COLOR10
Product Benefits: Processing time is complete in only 10 minutes, Perfect white hair coverage, Long-lasting color retention & vibrancy, Perfect & even color results, Stunning & long-lasting shine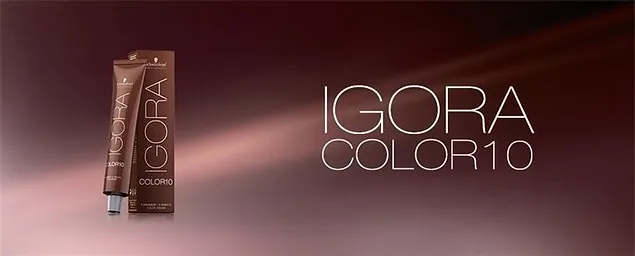 SCRUPLES BLAZING HIGHLIGHTS
Toner Infused • Gel Color System
Color can lift color!
Lifts up to 7 levels through natural or color treated hair and deposits permanent haircolor in a single process
Contains Scruples exclusive Protective Barrier Complex (PBX®), which protects the dye molecule and deposits color deep into hair while conditioning and creating incredible shine
SHADOW LOWLIGHTS
Filler Infused • Gel Color System
Perfect Low-lights Every time!
Eliminates the step of repigmenting
Each gel color contains the proper filler to achieve expert results in a single process
7 gel colors mix to create 18 lowlight shades
Goldwell ELUMEN HAIR COLOR
High-performance oxidant-free hair color
For extra luminous, shining and lasting hair colors
Without peroxide or ammonia
COLORANCE EXPRESS TONING
Gentle blonde refinement in just 5 minutes.
Subtle glazed pigmentation
Fascinating shine
Directly after lightening (full head or highlights), highlifting or in between two highlight services.
BRAZILIAN BLOWOUT SMOOTHING AND REFINISHING TREATMENT
Reverses the signs of damage and promotes overall hair strength and vitality to provide a restorative boost and unparalleled protection for your hair.
Uses the highest quality ingredients, such as Keratin, vital ceramides and smoothing amino acids, combined with a low pH mechanism to soften and smooth coarse hair.
Drastically reduces frizz.
Is free of formaldehyde and aldehydes that is safe for all hair types.
Volumizes and restores hairs youthful look and texture.
ISO Prems/Re-Texturizing
ISO's exclusive, patented, thio-free formula utilizes Isoamine, a naturally derived waving agent. Isoamine penetrates more deeply and evenly into the hair than conventional waving agents without aggressively lifting the cuticle. Since the internal structure and integrity of the hair is not disrupted, there is no need for conditioning additives that can hinder the perming process. The result is resilient curls and healthy hair.
Option 1
This thio-free wave Option is ideal for building lift and definition through separation and loose, free-moving texture.
Designed for: For Normal and Previously Permed Hair Fine to Medium Texture Normal to Moderately porous Previously Permed Hair For easy to wave hair Shorter lengths
Benefits: Added prewrap, No heat required
Option 2
Exclusively formulated for tinted or color-treated hair. Option 2 brings gentle, yet effective wave action to hair. Thio-free and formulated with naturally derived isoamine to nourish and leave hair cuticle supple and smoothe. Optimum curl results, healthy hair and color.
Designed for: For every type of color-treated hair Previously Permed hair
Benefits: Variable timing maximum, 20 minutes, Added prewrap, No heat required
Option 3
Designed for normal to resistant hair, Option 3 produces big, expansive curls while retaining the hair's natural beauty and shine. Ideal for dramatic and high fashion styling.
Designed for: For Extra-Firm Curl on Normal to Resistant Hair Normal to Coarse Texture Tinted hair in good condition (20 volume or less) Resistant or Gray hair Long, thick hair
Benefits: Can be self-timed or variable timed, Added prewrap, No Heat Required
Option exo
Thermally activated, exo gives stronger, more energized, defined wave, along with all the healthy benefits of the thio-free ISO system. Offers lasting texture as well as unprecedented softness and shine, yet strong enough for luscious curls on long, short or resistant hair.
Designed for: For Energized Curls on Longer and Resistant Hair Normal to Coarse Texture Tinted Hair in Good Condition (20 volume or less) Resistant or Gray Hair Long Hair
Benefits: Exothermic Activator, For Off the Scalp and Condensed Techniques, Can be Self Timed or Variable
Hours
7 Days a Week –  Hours Vary
Address
1219 Cape Coral Pkwy E
Cape Coral, FL 33904