Who is a candidate for Hair Extensions?
Anyone who wants longer, thicker and fuller hair is a candidate. If you are unhappy with your cut, want highlights without the chemicals or have thinning hair or simply want a style change, you will love Hair Extensions.
How do Hair Extensions work?
Extensions are attached with specialized liner tape, Keratin Bond or Microlinks that your natural hair attaches to during our process.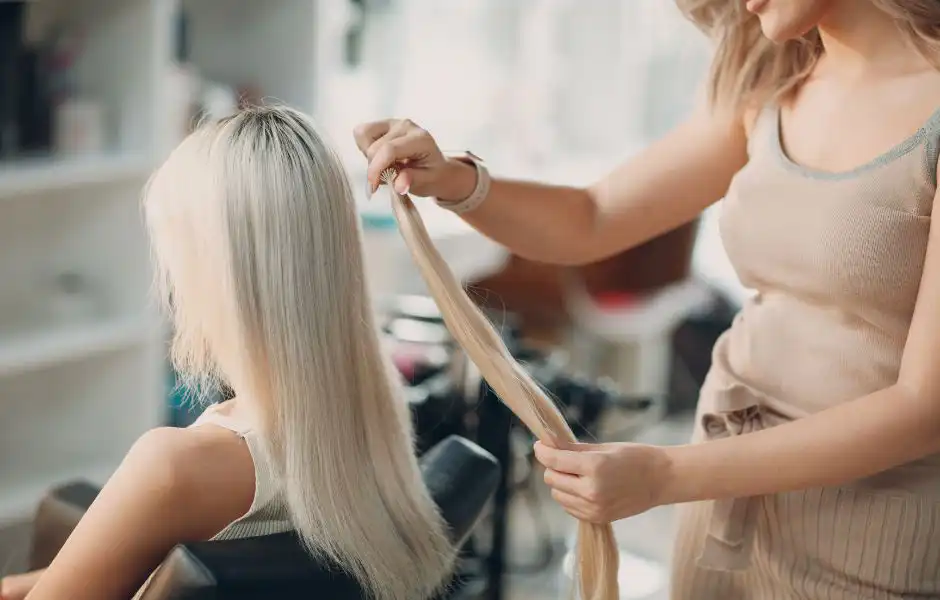 How long will Hair Extensions last?
With proper care and maintenance, the extensions will last 4weeks – 3 months (depending on technique used). At this point, the extensions can be removed and then re-attached.
What type of hair is used?
We use only 100% human hair. The hair comes in a variety of colors and textures and is carefully selected to match the client's color, highlights and texture.
Can I wash and brush my extensions?
Yes, you can handle your extensions in the same way that you would a head of naturally long hair. There are recommended hair care products that will keep your extensions healthy and lengthen the time you can wear them.
Are the extensions comfortable?
Normally, the extensions feel just like your own hair but in some cases they take a bit of getting use to.
Will the color and texture of the extension hair match my own hair?
Yes, our systems offers a wide variety of colors and textures that will be blended to match virtually any hair. We can match hair that is naturally curly, straight or highlighted.
What condition will my hair be in when the extensions are removed?
If properly cared for, there will be no adverse effects to your hair when the extensions are removed. Your hair will be like it was before the extensions were applied.
How much do extensions cost?
Because each client is different, your stylist can offer the most complete consultation that will include pricing.
Is there a return policy?
No. It is very important to have a thorough consultation prior to ordering your extensions as they are a custom order just for you, must be paid for prior to ordering, and are non-refundable.
For Success with Extensions:
Hair must be clean. No product, oil, silicone or removal products in hair.
Once extensions are in, please be advised that continually soaking hair in a pool can loosen the adhesive. (not just swimming but hours and hours with wet head) *This applies to Seamless type extensions ONLY
Wait at least 24-48 hours before washing hair and only with a clarifying shampoo.
Be careful of over stretching your hair in any way.
Please be advise to not pull on hair once extensions are in and to use proper brushing techniques.
Following up with your stylist is very important!